assets360 Solutions Overview
logicline offers complete solutions developed using our assets360 software toolkit. Our modular building blocks offer extensive flexibility and freedom to implement as much supporting functionality as you need to meet your organizational or business requirements.
Our solutions for OEMs and end-customers include:
Asset Management
Customer or Service Portal
Edge Marketplace
machine360 for Salesforce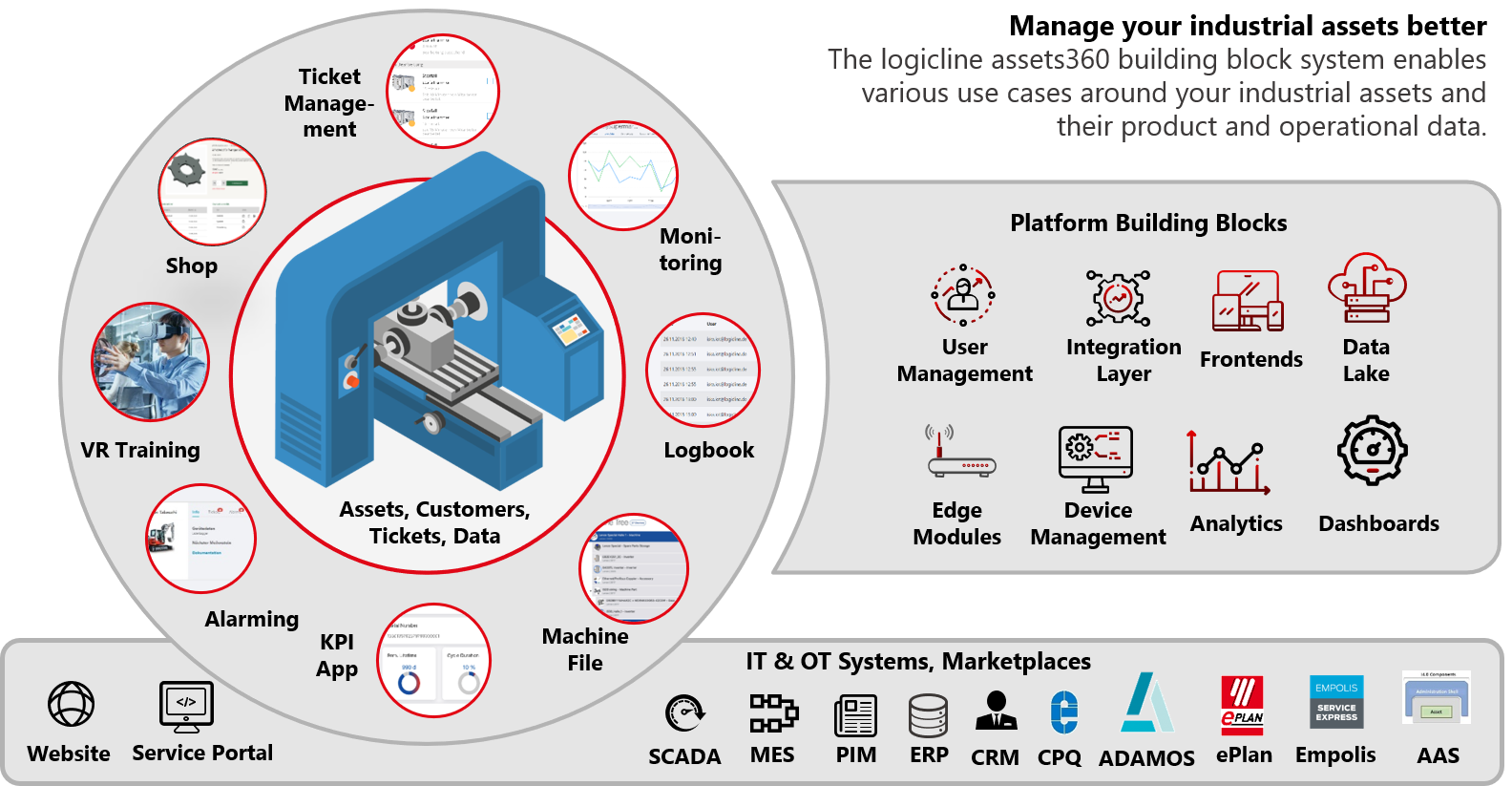 Asset Management
The Asset Management solution allows industrial assets to be managed efficiently ensuring the highest possible degree of machinery and equipment availability.
Key features of the asset management solution include:
Transparency into the installed base. Access information regarding asset location, documentation, asset & IoT data, and machine status
Machine File; a single source to access machine and device-related information such as:

Hierarchical machine and equipment structure via the machine tree- easily see the relationship between devices and child devices (e.g. workstations, machines, components, spare parts). The machine tree can be enhanced by combining it with device details, asset & IoT data, documentation, service logbook (audit trail)
Device details for a comprehensive device overview: access to device meta details including device name, device type, manufacturer, barcode, year of construction, etc.
Service logbook to show audit trail
Document management to centralize access to documents, manuals, pictures, software from anywhere in the world

Incident management via the Service Book:

Create, prioritize incidents.
Forward service incidents and requests to internal and external experts.

Connected machines to view live machine data.

Real-time alarms and notifications to receive timely notifications on incidents, device stats, etc.
User Management to manage roles & rights and to determine what content is visible and to whom
Integrate with other modules such as Spare Parts module, KPI app, analytics, virtual training, remote service, and more
Our Asset Management solution offers the following benefits:
O

verview of the installed base and asset transparency

Digitization of existing information-

Error

reduction

due

to

paperless

transmission

of

information

Reduction in unplanned downtimes through preventive maintenance

Better insight into the machines with access to r

eal-time and historical OEE data
Customer Portals
The Customer Portal is quickly becoming a preferred option for customers to interact with those in their value chain such as their OEM partners. Customers favour solving a product or service issue on their own, or at a time that is convenient for them. A customer self-service portal provides a secure and easy-to-use channel to manage assets, organize documents, prioritize incidents and manage internal or external communication. The Customer Portal can be customized as per requirements.
Key features of a Customer Portal solution may include:
Consolidation of relevant documentation e.g. manuals, training guides, instructions, pictures, etc. in a digital format
View machine and device details
Grouping of asset information by type, product, series, workstation, etc.
Allow customers to raise issues, incidents and track support tickets
Display machine information, service history, tickets, and alarms
Display KPIs on a production, machine, or device level
Request internal or external support
Set up service milestones
Integrate with other modules such as virtual training, remote service, spare parts shop, analytics, etc.
Customer Portals provide the following advantages
Better visibility and access to real-time information, 24/7, 365 days a year
Digitization of existing information-

Error

reduction

due

to

paperless

transmission

of

information

Improved customer experience and retention levels
Scalable licensing options
Improved internal and customer communication
Edge Marketplace
The Edge Marketplace provides a platform to OEMs to offer a range of edge applications to customers such as KPI optimization and OEE optimization. The Edge Marketplace is an on-premises solution for Industry 4.0 deployments and helps avoid the latency, security, and cost issues associated with application hosting in a remote data center or cloud. The marketplace can help hardware-centric companies expand their software offerings to generate recurring revenues. Based on the services demanded by the end-customers more apps can be added to the platform.
The Edge Marketplace offers the following advantages:
A platform for OEMs/Machine Builders to offer Edge applications to their customer

On-premise solution for smart factory applications

SDKs to enrich the platform with third-party applications

Fully integrates with any cloud

Applications can be monetized to grow digital business and generate monthly recurring revenue
IoT Asset Management for Salesforce
IoT Asset Management for Salesforce from logicline connects the IoT Domain with the Salesforce world to help machine builders to enhance their field-service capabilities. The solution makes the devices and their data accessible within Salesforce, putting the machine and its data at the center to enhance visibility into service processes, reduce costs, identify sales opportunities, and improve customer engagement.
Our app is natively built on Salesforce and acts as a connector to bring data from various sources such as device clouds, ERP, MES, excel, or even directly from the device into your Salesforce Org. The app enhances standard Salesforce objects with the enriched asset object and related IoT data and leverages standard Salesforce features such as process builder, reports, work orders, and cases, to make your asset data actionable for your team.
With IoT Asset Management for Salesforce, your service and sales teams are connected to mission-critical assets and IoT data, to act on, whether it is providing timely support, reducing downtime, or exploring new revenue opportunities.
The app can also integrate with the powerful Asset Management solution to access asset data, device attributes, tickets, and more to provide a truly 360-degree view of your asset.
IoT Asset Management for Salesforce is available on AppExchange.